If there's one thing Bali is known for, it's the beautiful beaches and breathtaking scenery.
No matter what you choose to do, or where you decide to go, there is always somewhere fun you can visit, play, and relax on this island.
Bali is also known for its culture, welcoming locals, thriving forests, and many volcanoes.
To help you thoroughly enjoy your visit, we have prepared this list of the best things to do in Bali.
1. VISIT THE TANAH LOT TEMPLE
While the other temples of Bali may be bigger or more awe-inspiring, Tanah Lot, which translates to "Land in the Sea," holds an unmatched special serenity.
The contour of Pura Tanah is among the most prominent iconic elements of Bali. Visualize a Balinese temple resting high on a boulder, fronting bright blue waters of the ocean. With waves swashing below and a radiant sky spread above, thousands of travelers visit this picture-perfect temple every year.
Situated in Tabanan, only about 30 km off Denpasar, this temple was built in the 16th century by Dang Nirartha, a reputable holy figure in Bali. And since then, this temple has been a significant pilgrimage site.
If you want a glimpse into Bali's rich history and tradition, then the ideal time to visit Tanah Lot is during Odalan. This ceremony is commemorated every 210 days.
However, on regular days, the multiple restaurants, stalls, and vendors selling everything from enticing food to souvenirs will keep you occupied.
2. SOAK IN THE SUN ON SANUR BEACH
Chilly ocean breeze, salty hair, tan skin, and that novel you have been wanting to read for ages – what is a better way to relieve your stress than visiting a beautiful beach?
Sanur Beach also arrives with delicious evening cocktails, enthralling surfing, some fun water sports, and award-winning beach huts to stay the night. So stack up on your sunblock, wrap up your bathing suit and compile a playlist of your favorite tunes to get the best holiday experience.
This beach is located along the south-eastern coast of Bali, in the town of Sanur, near Kuta. By being less than 10 miles from the International Airport, you can drive to this beach any time, and that too without any charge.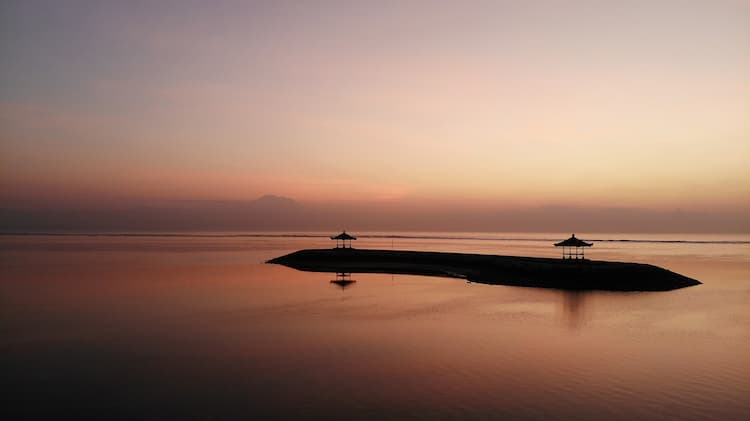 3. VISIT A TRADITIONAL HEALER
Not to get started with the "Eat, Pray, Love" mantra, but visiting an ancestral healer is a must in Bali. Recognized for healing broken hearts, soothing persistent pain, and relieving tension, healers have become extremely popular, credited to the rise in holistic wellness.
These local healers work wonders by employing divine power, herbal tonics, and massages to freshen up your spirit and mind. But before trying one out, make sure to approach with a positive attitude and an open mind since it is one of the initial steps in getting healed.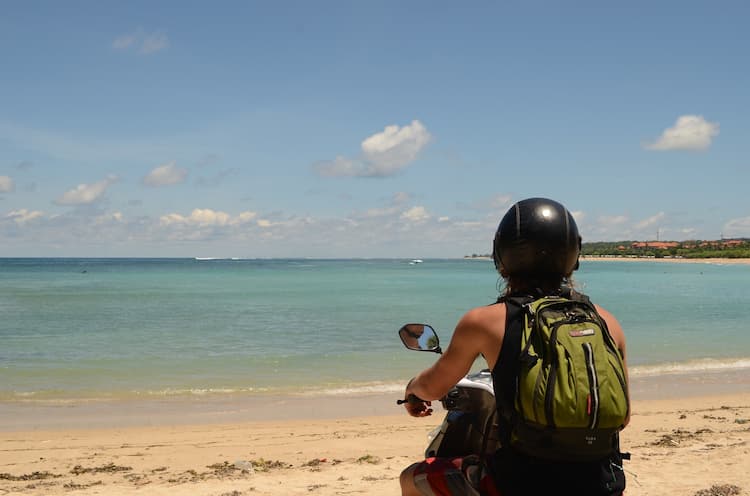 4. EXPLORE BALI ON A SCOOTER
One of the first things you are bound to notice as soon as you enter Bali is the startling number of scooters on the roads. They swirl in and out and buzz by you as you are loitering in the traffic. From youngsters in uniforms going to school to women in high heels and sometimes whole families of three or four, everyone in Bali seems to own a scooter or a motorcycle – and so should you.
The fastest way to get around this island is by scooter, and you can easily rent or borrow a reliable two-wheeler from nearly every nook and corner. Accessible for day-to-day, or weekly hire, it may cost a sheer $4 per day.
But before the scouring, make sure to don a helmet and don't start riding until you feel complacent enough to encounter the hidden potholes and bumps on the roads.
5. CRUISE THROUGH THE SEA ON A FISHING BOAT
The geographical setting of Bali makes it a promising fishing hub. Fishermen from across the globe stop by the shores here to intensify their experience of the aquatic world.
From advanced fishing boats to local wooden Jukungs, every facility is available to deliver you a successful fishing excursion. Trained anglers also arrange supervised fishing sessions for big-game fishing. Some of the reputable charters include Black Pearl on Jimbaran Bay and the ones set in Nusa Dua and Denpasar.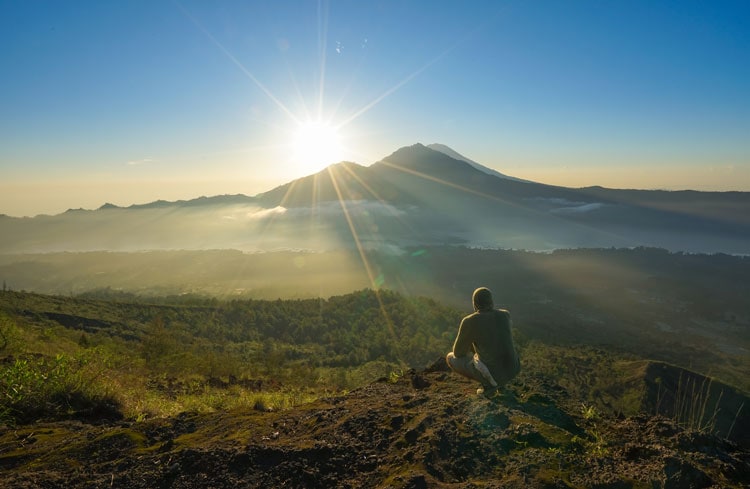 6. HIKE TO THE TOP OF MOUNT BATUR
Regardless of how riveting beaches, swimming, and palm trees sound, one may get tired of them after weeks of exposure. Therefore, trekking Mount Batur can be the next best thing of your trip to awaken the adrenaline junkies and get over the laziness.
Mount Batur, locally referred to as Gunung Batur, is an active volcano about  1717 meters high. Due to the scorching heat during the daytime, the hiking starts off early morning to ensure that you catch the sunset from the top. After all, what's a more magical and rewarding way to end your day than with the magnificent evening sky.
7. HIKE TO TUKAD CEPUNG WATERFALL
Although there are multiple aesthetic waterfalls in Northern Bali, Tukad Cepung manages to capture the attention of all tourists with its dreamy view of hot springs and canyon walls.
Situated in the Eastern part of Bali, near Ubud and its famous beach towns, Tukad Cepung is the most photogenic site worldwide.
Reaching this waterfall is not so easy, but, worth the sight that you discover once you get there. After twenty minutes of trekking on slippery and uneven ground, you need to squeeze through narrow gorge walls to arrive at the destination. Wear strong footwear to protect your feet from bruises by prickly rocks.
The best time to make this trip is in the early morning and midday hours. During this period, not only is the place less crowded, but the sight of sunlight creating prisms of light is undoubtedly one you never want to miss out on!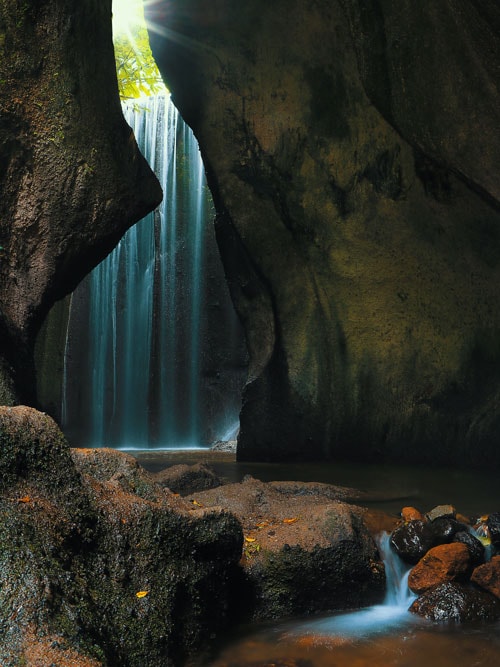 8. DEVOUR INDONESIAN CUISINES AT KELLY'S WARUNG
Run by Balinese local Kelly, Kelly's Warung is a must-visit cafe for tourists looking for cultural and cheap food after a dip in the ocean!
This smoothie and juice cafe is located at the heart of Bingin Beach and offers a delightful and calming view of the Indian Ocean.
The specialty of this open-air cafe is the Indonesian Nasi Goreng, served with fresh juice or smoothie, which makes it an ideal post-surfing meal. This dish is prepared from fried rice and fresh veggies, topped with an egg for a healthy yet scrumptious feed.
Packed with fresh, tasty, and organic ingredients, the food at Kelly's Warung is a delight for everyone at a super cheap rate!
9. TAKE A COOKING CLASS AT BUMBU BALI
Specialized in serving and teaching to cook classic Indonesian cuisine with expertise, Bumbu restaurant is a hidden yet treasured gem of Bali.
Located in North Kuta, Badung, Bumbu Bali offers you a long list of Indonesian and Chinese foods with a hint of a French twist. The most adored items on their list include Chicken sate, spicy sambal, and tofu. This local cafe also serves unique desserts such as Dadar gulung and green pandan.
You can book a cooking class at the restaurant where experts not only teach you the art of making Indonesian food but also take you on a day trip around the local market!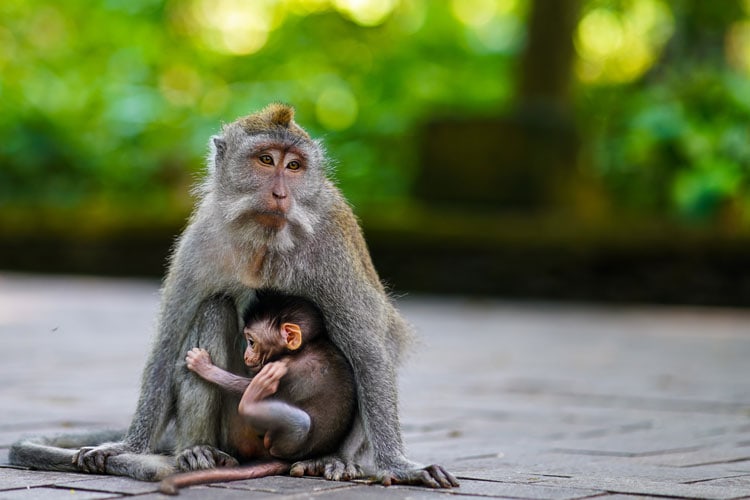 10. PAY A VISIT TO THE UBUD MONKEY FOREST
Ubud Monkey Forest or the Sacred Monkey Forest Sanctuary is an idyllic retreat for every wildlife photographer and animal enthusiast.
Present at a ten-minute walk south of the town Ubud, this monkey forest features highly rare plantations such as the nutmeg trees and giant banyan. The thick forests with paved paths and moss-covered statues look like a scene taken right out of an adventure movie!
Moving towards the southwest side of the Sacred Monkey Sanctuary, you will find the Pura Dalem Agung Padangtegal temple, which dates back to the 14th century and has hundreds of monkeys swinging around. In contrast, the northwest side of this forest comprises "Pura Beji" – an ancient bathing temple.
Offering the best instances of history and wildlife, Ubud Monkey Forest is one of the most impressive places to spend an entire day in!
11. Waterbom Bali
Waterbom Bali is a water-themed park in the town of Kuta in Bali.There are slides and rides for kids, while adults can have meals at the many exotic restaurants in the park.
Why You Should Go
Bali is not just a location for sightseeing and leisurely walks by the beach; it is a location for family fun.
With its Waterbom park, a place like Kuta is a great place to visit with its plethora of fun activities. Additionally, it has a lot of amazing slides and water-based attractions for the family
What To Do
Engage in activities like surfing, skiing, and many other exciting water sports while you're at the Waterbom Park.