Christmas is not just a celebration but an experience that brings the world under a beautifully adorned tree. Some celebrates the festival at home while some loves to explore various destinations of the world. The celebration of the festival reaches beyond the boundary of the religion and location as the entire world celebrates it with complete enthusiasm. Christmas is almost upon us and you might have already made plans to celebrate this festival in your own special ways.There are many wonderful Christmas holiday destinations in the world where you can celebrate the festival in an amazing way. Travel experts  have done good research about best Christmas destinations understanding your priority. Know about the best places in the world to go for Christmas celebration in a beautiful way.
Christmas is a magical time of year, and if you're dreaming of spending it in a picture-postcard-perfect town that looks like it's right out of the pages of a children's storybook, these destinations offer the chance for one of the most unforgettable holidays of a lifetime. From remote destinations in Europe to mountain towns in the U.S., we've found the most magical Christmas towns in the world.
Vienna, Austria
Vienna offers the chance for a delightful old-fashioned Christmas with the smell of gluhwein in the air, twinkling holiday decorations covering imperial architecture, and three outdoor Christkindlmarkts. Visitors can have their pick of a wide variety of artisan wares and ornaments as well as tasty finger foods and that wonderful spiced mulled wine. Of course, the Vienna Boys' Choir concerts are a must during the holidays too, and it's a delightful time to explore the city's other top attractions.
Prague, Czech Republic
Prague is well-known for its magnificent gothic architecture and unique folkloric traditions, and at Christmas, it's truly unlike any other city on earth. From its famed Christmas markets with beautifully decorated wooden huts filled with festive treats, including everything from craft gift items and ornaments to fantastic delicacies like spit-roasted hams and trdelnik, a traditional hot sugar-coated pastry. In Old Town Square, you'll find a stable, complete with goats, donkeys, and sheep set around a traditional nativity, as well as lots of holiday lights and music.
Strasbourg, France
A top destination in Europe at Christmas, Strasbourg offers a series of themed Christmas villages that transform the city into a fantastic wonderland of holiday sights and gastronomic delights. At the Village of Alsace Farmhouse, visitors can taste prune, apricot, and other holiday-inspired variations of farm-fresh foie gras. While in the nearby Village of Bredle, you'll find its namesake traditional Christmas biscuits and a practically endless flow of mulled Alsatian wine. The city's Christmas program is filled with concerts and all types of cultural events.
Bethlehem, West Bank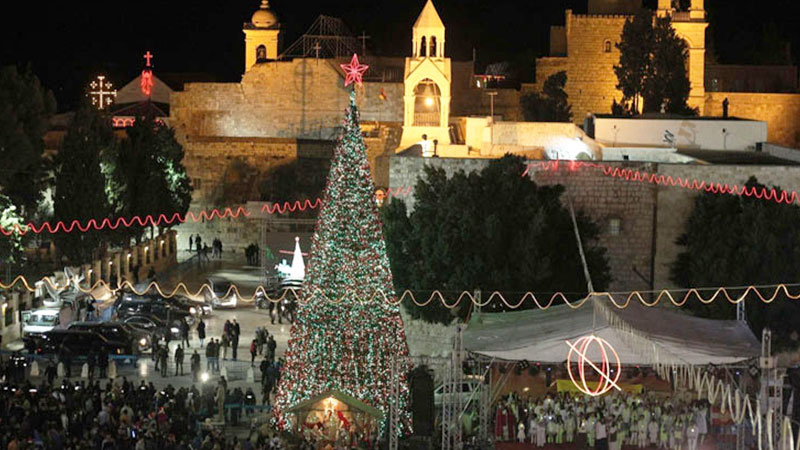 With the hectic schedule of your life, you have forgotten the real meaning of Christmas. To go for Christmas family vacation, visit Bethlehem as the celebration of this festival can't be more striking than the birthplace of Jesus. It is one of the best places to spend Christmas holidays. The mere thought of Christmas celebration on Manger Square and in the Old City can fill the visitors with a heavenly dynamism. The festival of Christmas becomes more incredible when you celebrate it at St. Catheroine's Church's midnight mass of Bethlehem.
Rovaniemi – Lapland, Finland
Rovaniemi in Lapland, Finland, may be the best place on earth to celebrate Christmas. Located just north of the Arctic Circle, Finns argue that it makes a much likelier home for Santa than even the North Pole.  What better place to meet the jolly ol' fellow than in a frozen winter wonderland of deep snow and pine forests? Here, children can make cookies with Mrs. Claus and even enroll in Elf School. Other highlights during this time of year include husky-dog rides, tobogganing in the deep, pristine snow, and viewing the Northern Lights. If you want an especially frosty experience, stay at the Arctic SnowHotel, constructed entirely of snow and ice, though it does come with hot tubs and saunas to offset the frozen temperatures.
Woodstock, Vermont
Vermont is one of the best places in the U.S. to celebrate Christmas and one of the most picturesque New England towns, with the ground typically covered with at least a light dusting of snow and the scent of pine needles wafting through the air. In the historic town of Woodstock, the city really does the holiday right with its Wassail Weekend, a pre-Christmas festival with 19th-century Norse culture traditions. It includes a parade featuring over 50 horses and riders donning holiday costumes and period dress, along with wagon and sleigh rides, as well as a 19th-century Christmas celebration at the Billings Farm & Museum. Visitors also enjoy a wassail feast, and all the local shops, with beautiful holiday window displays, stay open late throughout the festival.
Nuremberg, Germany
One of the best places in Germany to celebrate Christmas, the Nuremberg Christmas market draws over two million visitors each year with its 200 vendors putting up incredible displays. And, you won't find any fake, mass-produced plastic decorations and other items – here, the market council is said to be very serious about making sure that only traditional handmade toys and holiday goods are sold. As you wander through, you'll enjoy the tempting aromas of mulled wine along with gingerbread, sausage, and sweet roasted almonds, all in an unforgettable holiday atmosphere in the Old Town, decorated in all its Christmas glory. Kids and the kids-at-heart will love the Toy Museum as well as the magnificent two-tiered carousel based on old originals – complete with reindeer and Father Christmas sleighs.
New York City, USA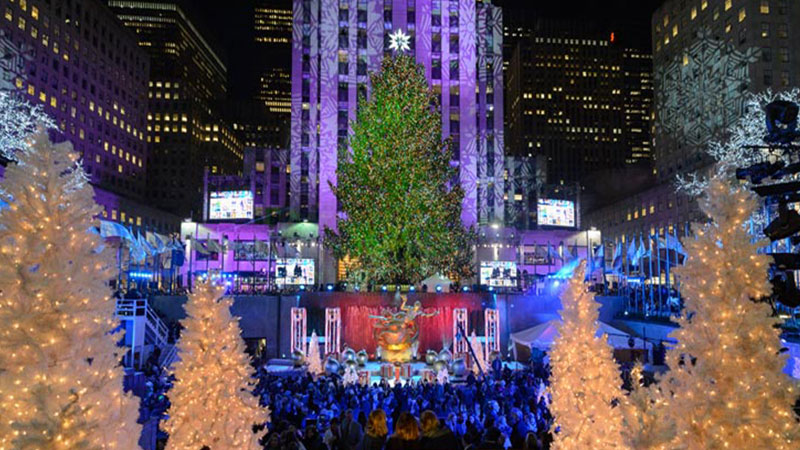 Christmas plays really important role in the Empire State as a number of films have already revealed it. With Christmas lights, tasteless muzak, light dusting of snow, the city turns into a destination celebrating one of the best Christmas of the world. Visitors are awed with the tallest Christmas tree of the world at the Rockefeller Center and ice skate beneath it. There is an excellent shop window displaying things in most desired way.
The Vatican, Italy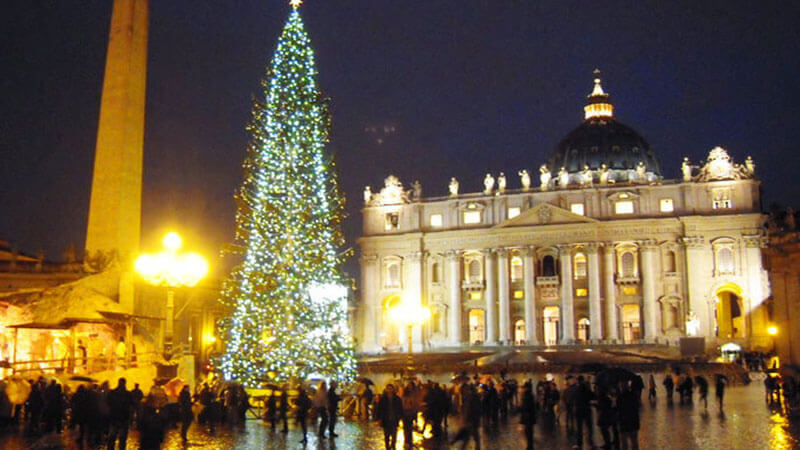 The beautiful Vatican City remains attractive all through the year but the month of December is really magical here. It witnesses extra beats with roasted clichés sold on every corner and the city is flooded with wonderful scenes. Vatican City on Christmas Eve attracts a good number of pilgrims and Midnight Mass in St Peter's Basilica and ensures them a day to remember. To make your Christmas Eve more special, visit the city that is one among the best Christmas destinations of the world.
Bondi Beach, Australia
Bondi Beach in Australia is known for offering the contrary of the northern-hemisphere Christmas formula – snow and fairy lights. At this place, Christmas is celebrated with sand, sun and surf making it one of the best places to enjoy Christmas. The beach lures a huge number of backpackers to come out of their home and enjoy the most incredible Christmas celebration. A perfect festive atmosphere is created here with Bands and DJs. So, if you want to try something different on this Christmas other than the same Christmas trees and fairy lights, visit this place.
Amsterdam, Netherlands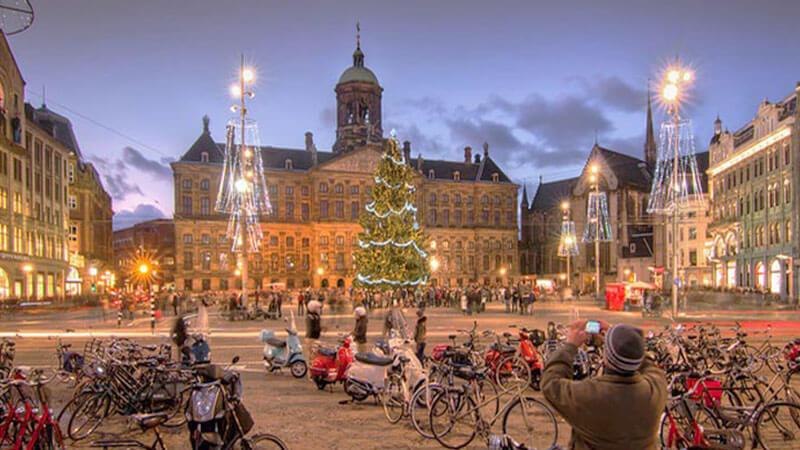 Amsterdam is another great location for Christmas celebration in the world. The tale of Santa Claus (locally called Sinterklaas) is strongly told in the Dutch capital, where every house from 16th and 17th-century is adorned with sparkling lights in early December. To make Christmas more special for you, stay here till New Year's Eve and enjoy champagne and fireworks in Dam Square or the Nieuwmarkt. Additionally, don't miss to join locals for the celebration.
Dublin, Ireland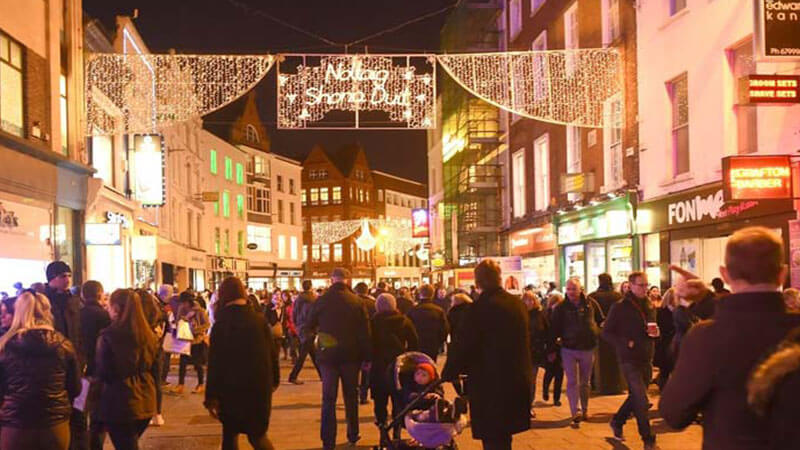 On the streets of Dublin, you get the opportunity to do a lot for Christmas. There is 12 Days of Christmas Market at the Docklands, with lots of pantomimes, Christmas lights, and seasonal cheers. These streets of the city are superbly adorned with fluids of lights. Kids can visit the elves' workshops. Enjoy a fun-filled Christmas at this place.
Zurich, Switzerland

Zurich is popular for its chocolates, mountains, snow and cobbled streets. The place becomes a stunning destination to visit on the occasion of Christmas. The markets of the city are crowded and people can enjoy here guided Christmas walks and singing Christmas trees. With high enthusiasm of celebrating Christmas, the city invites the visitors for enjoying the most special Christmas Eve of life.
So, where you are going on this Christmas?
Copenhagen, Denmark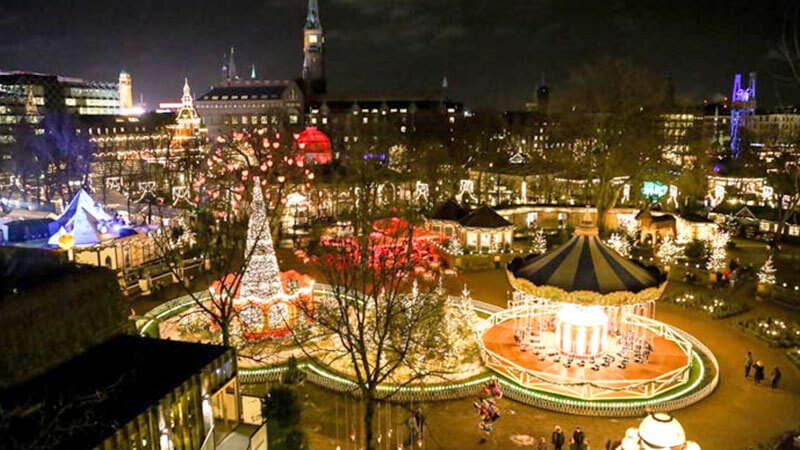 Copenhagen is the most vibrant and inexpensive capital of Scandinavia and an amazing destination for Christmas celebrations. Small yet welcoming, it is a destination where people set the pace and make its pre-Christmas activity really easy to navigate. Tivoli Garden of the city get a new look every year this time with half a million lights and thousands of Christmas trees. It creates a splendid center piece for festive season.
Riga, Latvia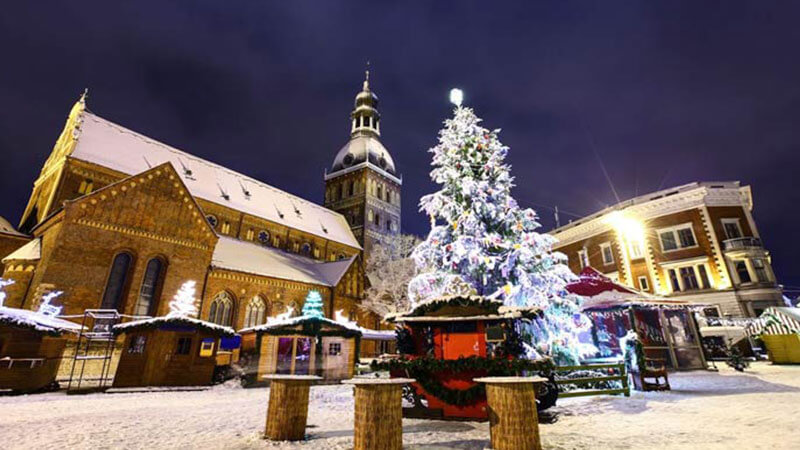 Offering an exclusive architectural setting, Christmas Market of Riga awaits visitors in the charming Town Hall Square. The city hosts a number of children special events that include carousel of wooden figures, pony rides and a horse drawn carriage. With all these events, Riga turns to be one of the best Christmas destinations in the world. People of all age groups can enjoy delicious delicacies and explore locally crafted items like handmade woolen socks, wooden candlesticks, Latvian honey and decorative mittens. On your Christmas holiday in Riga, you can come across Latvian traditions like log dragging, stitching crafts and traditional cooking.
London, England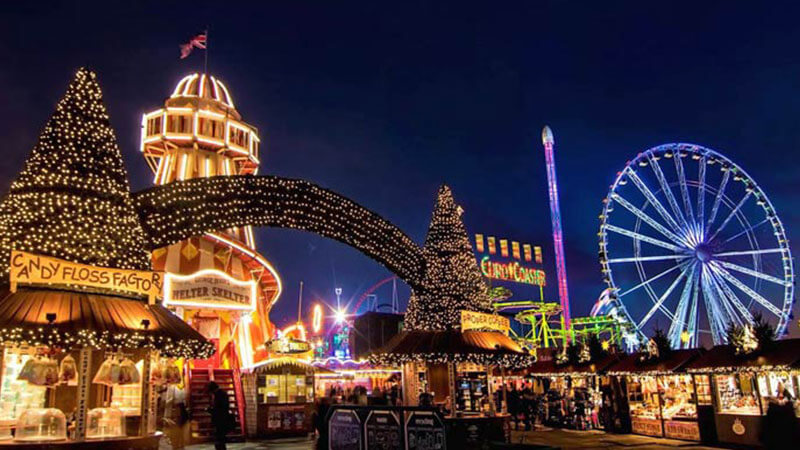 Christmas in London is simply fun that allows you coming across glittering Christmas lights and ice skating to traditional markets and Christmas shows. Explore the gorgeous Oxford Street Christmas lights shimmering in the skies above the world-famous shopping district or Christmas concerts happening in different parts of London. Christmas shopping in London allows you coming across the best Christmas treats, cool fashion boutiques and gorgeous bookshops of the city. To meet Santa, you can visit ZSL London Zoo, WWT London Wetland Centre, Rainforest Café and Royal Albert Hall.
Tallinn, Estonia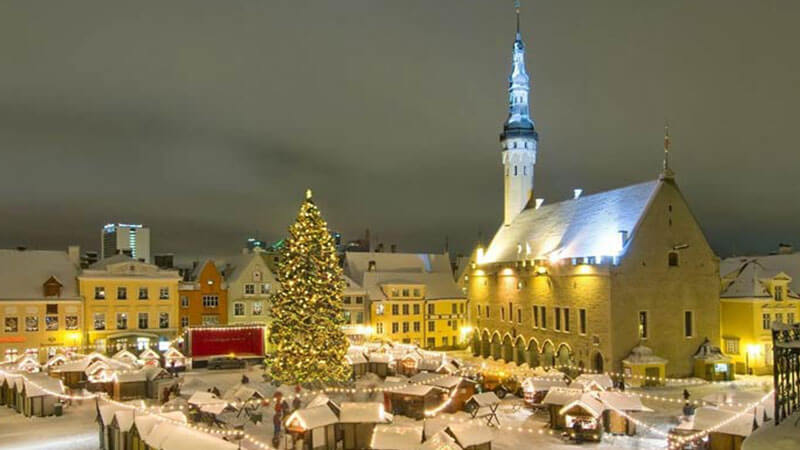 The capital city of Estonia is recognized for its superb Christmas spirit. The city is sprinkled with snow and lanterns lighten up after the dark to glorify the cobblestone streets. First Christmas tree of the world was erected here in 1441 and today, the legendary tree in Town Hall Square of the city still holds an important position. The tree is surrounded by little huts selling a number of handicrafts, snow sculptures, Estonian food and drink, and a small zoo. A Christmas holiday in Tallinn is going to be simply fun.
Edinburgh, Scotland
The capital city of Scotland, Edinburgh is a historically cosmopolitan and cultured city and among the best Christmas holiday destinations of the world. It enjoys a wonderfully striking setting with a series of dead volcanoes and rocky crags rising from the usually flat landscape of the Lothians. Christmas in Edinburgh is celebrated in style and allows you enjoying a lot on your Christmas vacation.
Montréal, Canada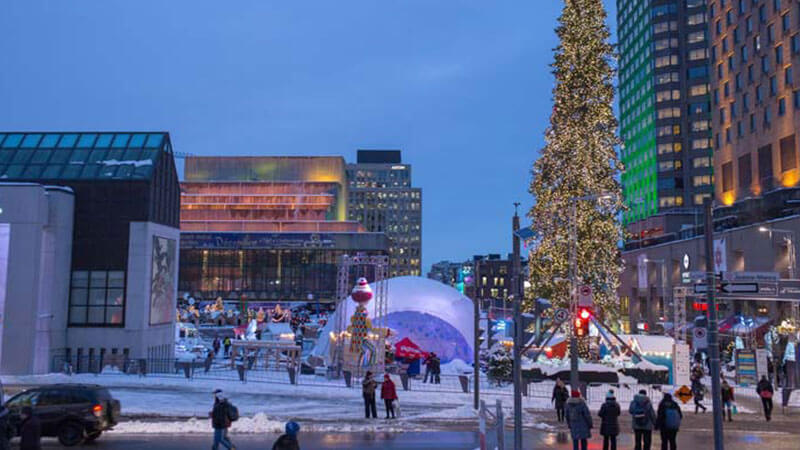 The second-largest city of Canada – Montreal is geologically as close to the European coast as to Vancouver. It combines some of the best things of the two continents and turns to be a magical destination for going on Christmas trips. You can enjoy here night-time parade to discover the magic of Christmas lights. It offers crazy amount of outdoor activities. Free Christmas concerts happening in the city is the treat for the visitors.
Hong Kong, China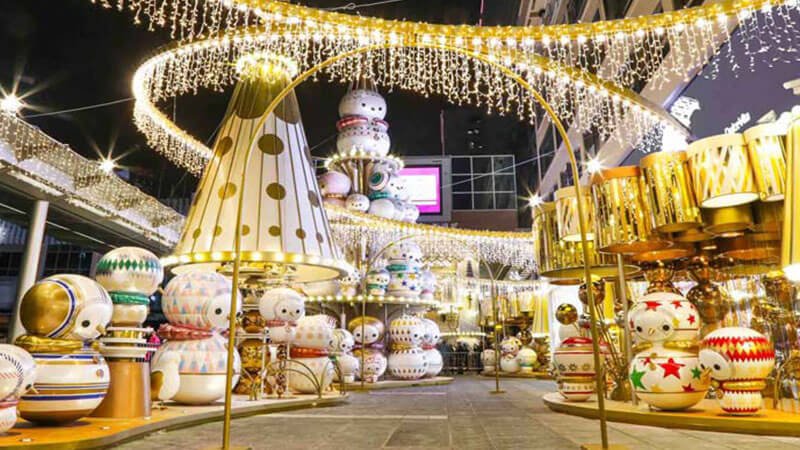 The most amazing city of East Asia doesn't let Christmas holiday pass without a flourishing Christmas celebration. If you are looking for nearby Christmas holiday destinations, Hong Kong is one of the best places to go. Beautifully decked up shop fronts, lights hanging from the skyscrapers and Christmas music blasts from speakers all around the city make it an ultimate place to go for Christmas travel.