What are NFT's
NFT stands for Non-Fungible Token. NFTs are issued on a blockchain; the 'non-fungible' part means that they're completely unique, and there's no other collection of data like it. Cryptocurrency itself is fungible, meaning that they're interchangeable with each other.
NFTs became popular as pieces of digital art, the idea being that because they're unique, they can provide a receipt of authenticity stored on the blockchain. Even in the real world, having the original piece of art is a huge deal, but it's a lot harder to verify.
If you have digital artwork, this can easily be verified and passed on to the next owner once sold, securing authenticity via the blockchain record.
3 NFT Use Cases in Real Estate
The following NFT use cases are revolutionizing the way we see real estate: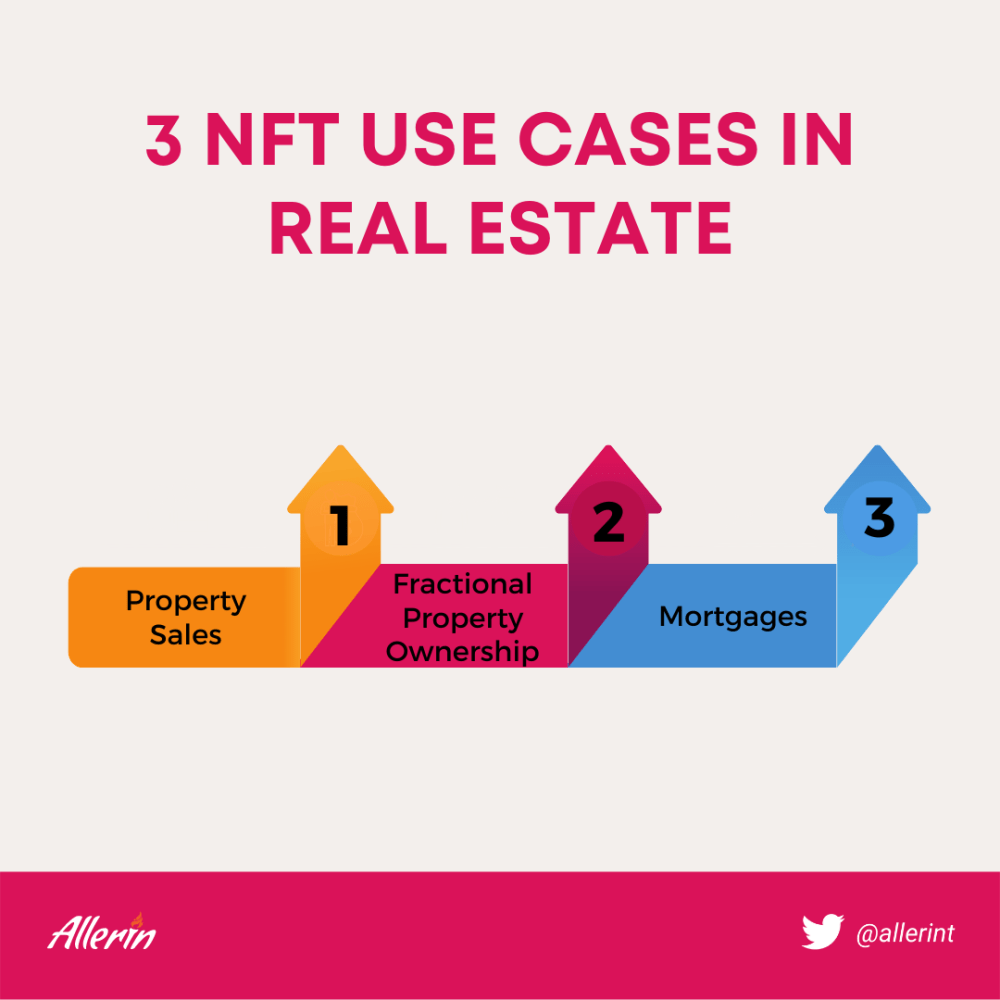 1. Property Sales
Real-world properties can be turned into NFTs to own and sell them digitally. Since transactions for NFT-backed properties can be done via blockchain, buying or selling properties can be almost instantaneous using smart contracts. In this manner, NFTs can help in increasing liquidity in real estate. Real estate is considered an illiquid asset as it cannot be quickly sold due to a lot of paperwork and transaction processing. Along with these, tokenization of property would also open up the market to a wider consumer base. LABS is a digital real estate investment platform where individuals can buy and sell properties via blockchain.
2. Fractional Property Ownership
Fractional property ownership has been a trend in the real estate sector for quite some time. Homeowners can now convert a property into an NFT that can be further divided into multiple tokens, which would allow a property to have multiple buyers. Homeowners can also sell part of the property to several investors by issuing tokens. Investors can hold on to these tokens and receive rent for doing so. NFT-based fractional property ownership could allow the sale and purchase of properties digitally without an intermediary.
3. Mortgages
Since NFTs enable shared ownership of properties, they can be used for mortgaging. A person who owns an NFT-backed property can apply for a loan from a lending platform. There are cryptocurrency lending platforms that offer loans based on how much cryptocurrency an individual holds. Similar platforms can be developed for NFTs where lenders would receive repayments using blockchain, depending on how much they had lent. These NFT use cases can disrupt the real estate sector by providing new ways to buy and sell real-world properties.
NFT-based real estate platforms are already being developed to capitalize on the opportunity. However, a major concern for many buyers and investors could be the lack of regulation for NFTs. As NFTs become more mainstream, governments across the globe may consider regulating and providing some type of legal framework for them.
NFT Real Estate Explained
Before we dive into NFT land specifically, let's run through a quick definition of what an NFT is. NFT stands for non-fungible token. NFTs are digital assets stored on the blockchain which means that they can be bought and sold on the secondary market. They usually take the form of pictures, videos, or audio.
Some popular NFTs that have exploded in valuation and popularity in the last 12 months include CryptoPunks, Bored Ape Yacht Club, and Veefriends.

NFT real estate and land is no different from the NFT projects above. However, instead of owning a picture or a video, you own a plot of land in a certain metaverse. You can use your digital land for pretty much anything, from advertising to socializing and gaming. Many owners use their land to host online experiences, and this has been the case with some huge names ranging from Snoop Dogg to Adidas.
Many large companies are realizing the use cases that the metaverse has to offer and are hence setting up shop, buying huge amounts of metaverse land NFTs. Real estate investors are also snapping up land, with NFT real estate group Metaverse Group spending a whopping $2.5m on 116 plots of LAND in Decentraland in November 2021.
When users purchase land in the metaverse, they usually have the opportunity to explore it as a 3D avatar. This is the case with all three of our top 3 best NFT land projects for 2022. Aside from our list, another hugely popular land NFT is Axie Infinity.
Throughout the coming months and years, it is likely that more and more metaverses will crop up, trying to emulate the success of Decentraland and The Sandbox. This could lead to a saturated market so investors should watch out for this trend if it were to occur.
Where to Buy NFT Real Estate & Land
Having read the above, you may be wondering where to buy NFT real estate and land. Buying NFT land is no different to buying a normal NFT. It is available on most decentralised in-game NFT exchanges. In addition to this, other in game assets can be purchased on the best NFT marketplaces like OpenSea, Magic Eden, and others. Another way in which you can gain a stake in the metaverse in by buying the governance tokens of each of the metaverses. $MANA, $SLK, and $SAND are all available on the best crypto exchanges like Coinbase, Binance, and eToro.
Before you purchase crypto or land, you will need to set a few different accounts. It is quick and easy to set up accounts with brokers like eToro, Coinbase, and Binance. All you need to do is visit the website and follow the onscreen instructions.
At Business Community, we have a number of articles showing you how to do this, so give them a read before choosing which broker you would like to use. Once you have a wallet, you can buy your crypto and start to set up your metaverse.
You will use this crypto to buy land in your metaverse. To do this in silks, you need to navigate to the in-game marketplace and purchase land. Once you have purchased land using your $SLK you can build property such as stables on top of it. Buying land in Decentraland is a similar process.
You need to make sure you have enough $MANA in your account, then you can either buy a new parcel, or bid on an existing one. Once you have your land you can build structures upon it to increase its value!
Finally, The Sandbox land NFT purchase is the same. All you need is some $SAND tokens. You need to visit one of the in-game auctions to purchase land. The dates of these sales are announced weekly. Once users have land they can buy, sell, and rent it.
While the projects have the potential to reap high rewards, they are also extremely volatile. This is the case with many NFTs and cryptos. Due to the severe lack of regulation in the markets, there is a lot of fraudulent activity, so users should be aware of this before purchasing investing large sums. Proper risk management should be used, and users should make sure they are well educated on their chosen crypto or NFT before they invest.
What's the Best NFT Project?
Blockchain hosts numerous NFT projects, but we found Lucky Block to provide the biggest rewards. Lucky Block is an NFT-based competition platform where users stand a chance to earn up to $50,000 in crypto rewards. Players can take part in weekly main draws and NFT draws every Friday.
Players can enter by holding NFTs that have been minted on the Lucky Block network and use them as tickets to participate. The price of the NFTs vary per piece. For example, holders of the platinum Rollers Club NFT collection can get free entry to the exclusive weekly platinum competition.  An exclusive opportunity to earn crypto rewards, one lucky NFT holder is awarded 2% of the main draw on a daily basis.
At the centre of this platform is LBLOCK – the utility token that can be used to reward winners and settle transactions. LBLOCK released in January 2022 and rewarded investors with a 1,100% price increase within two weeks. The token also listed on the popular decentralized exchange – PancakeSwap and surged by over 3,000%.